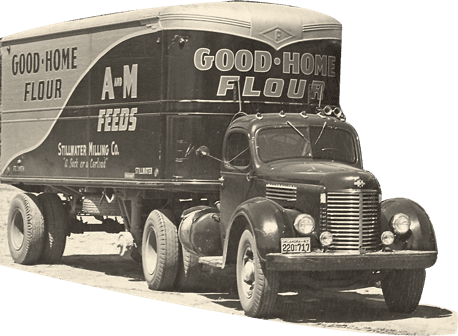 1891
The ancestor of Stillwater Milling Company was Thomas and Plummer Perfection Mills, established in 1891 to make wheat flour and corn meal for home baking. In 1906, Stillwater Mill and Elevator Company was incorporated by the Babcock family to produce flour under the name "Stillwater's Best Flour." In 1918, Andy Goodholm purchased the company and added a line of home flour products called "Good Home Flour." The mill did well and was expanded to produce livestock feeds. Stillwater Milling Company's feed is branded as A&M Feeds; named after Andy, and his wife, Mandy, Goodholm.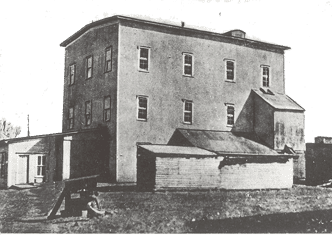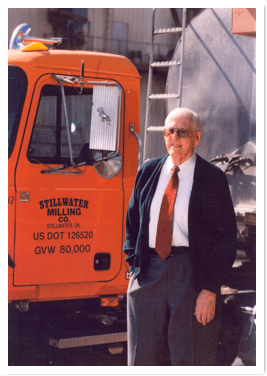 1933
Haskell Cudd came to work at Stillwater Milling Co. as a bookkeeper in 1933. That same year the mill was purchased by Haskell Cudd, Paul Wise and James Berry. The Berry family sold their interest after the death of James Berry. For over forty years after purchasing the Berry stock, the Cudd and Wise families owned the mill. In 2010, the Wise family purchased most of the Cudd interests and became the majority owners. Several employees also own stock.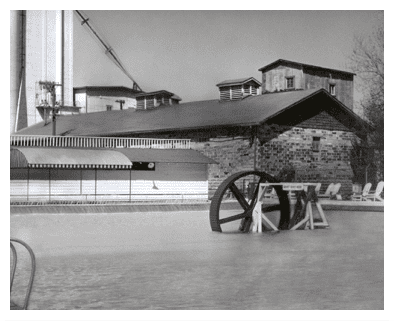 1938
Haskell Cudd became the General Manager in 1938. He later became the CEO and continued in that position until he retired in 2006 at the age of 98. In those decades, he created the largest and most modern feed mill in Oklahoma, always emphasizing reliable delivery of high-quality feed at the lowest achievable price consistent with high quality ingredients. In this way, the mill has improved the profitability of ranches all over the state. Theses policies have continued to the present and will continue in the future, for profitable ranches are our future too.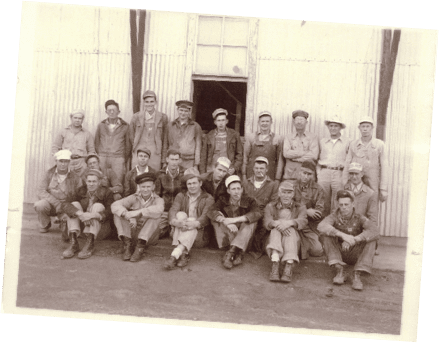 1950
Home baking began to decline in the 1950's, so in 1957 flour production was discontinued. The mill concentrated on multiple lines of animal feeds, especially cattle cubes. Grain purchasing and handling, were also a focus, expanding its operations all over Oklahoma and into the adjoining states. Crystal Plunge was the city pool in the 1950's and 60's. It was located just South of the feed plant. Stillwater Mill bought the property and it was filled in when the city built a new pool.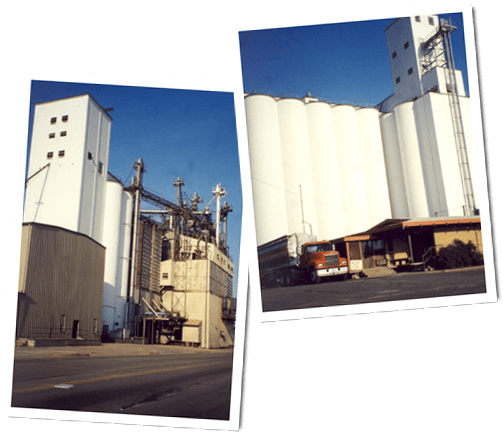 1975
Stillwater Milling Company's first Agri-Center was opened in Stillwater in 1975, followed by similar Agri-Centers in Davis, Claremore and Perry, all located in Oklahoma. These stores are large complexes that offer not only A&M feeds in bags or bulk, but also items like byproduct blends, fertilizer (as well as fertilizer spreading), fencing materials, troughs, livestock equipment, animal health, and gardening seed/supplies, just to name a few. In addition, all our Agri-Centers carry items for the home such as clothing and boots. Our Davis Store even carries Brighton jewelry and purses! These locations are all "More Than Just A Feed Store!"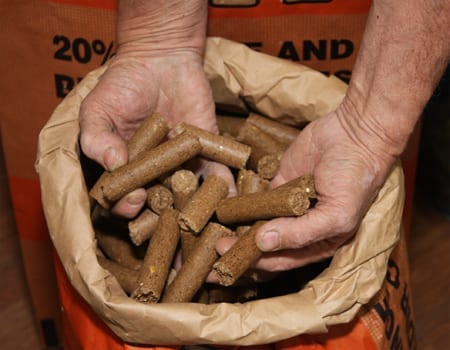 1985
The first computer automation system was installed at the feed plant in 1985. It allowed feed to be mixed and pelleted by a computer. In 2000, the feed plant was expanded with automation system for the feed plant. It controls pellet mills, mixers and blending systems. A&M Feeds are a combination of proven ingredients that promote growth and health.  Each feed we make must be labeled with a guaranteed analysis and we ensure our products meet those guarantees. Our automation system allows us to mix things per the feed formula every time. All ingredients, including medications, are precisely measured and mixed to yield as consistent a product as possible. Stillwater Milling Company makes it a policy to use only high-quality ingredients and no filler products (such as grain dust). This attention to quality is one of the reasons we have been in business for over 125 years.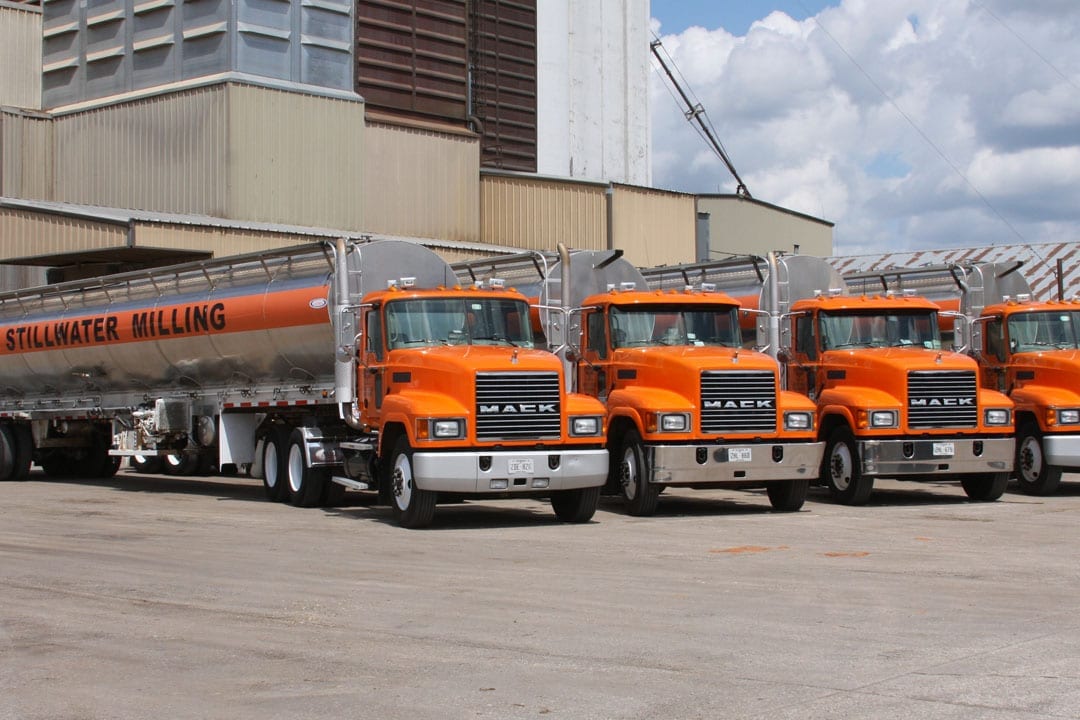 2007
Mr. Haskell Cudd passed away in December of 2007 at the age of 100. His daughter, Alice Fowler, had been appointed CEO in 2006 at his retirement. She remained CEO until her retirement in 2012. David Fairbanks became CEO when she retired and held the position through 2018. Pam Gill Moore was appointed CEO in 2019. Mr. Cudd taught all of those that have followed him his work ethic and commitment to quality. Many current employees at our feed plant and stores were trained and mentored by Mr. Cudd. His hard work and dedication to producing quality feeds that maximize an animal's potential are carried on today. Stillwater Milling Company will always be a place where your business is appreciated.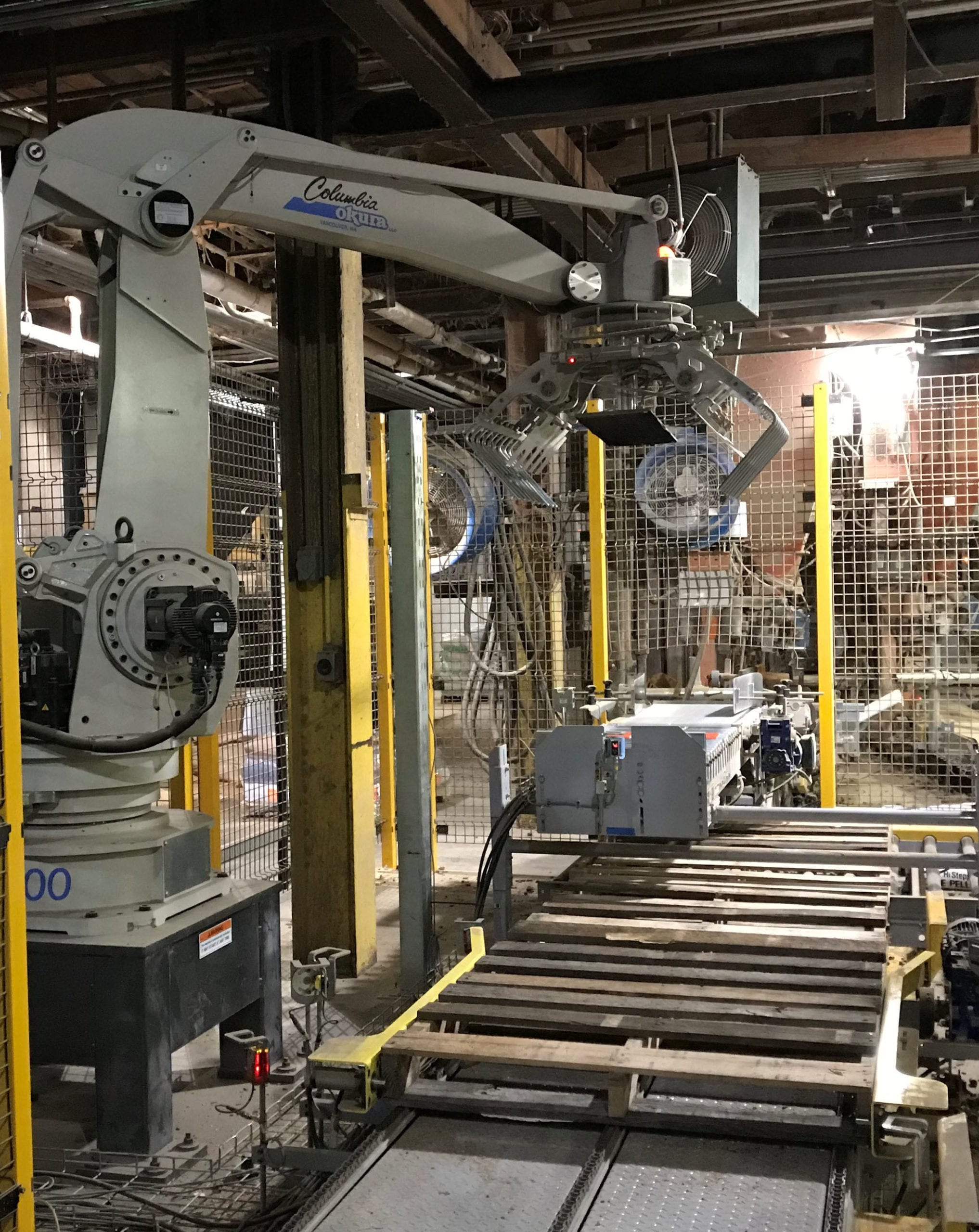 2019
Stillwater Milling Company has always strived to meet the needs of Oklahoma farmers and ranchers. Never becoming complacent is something that was always important to Mr. Cudd and those that have followed him. Our feed plant and branch locations have continually upgraded their facilities. In 2015, our Perry branch added a new Rogator to meet your precision fertilizer application needs. In 2017, the Stillwater Agri-Center moved into a new building facing Highway 51. The old store was converted into warehouse. In 2018, both Davis and Claremore added new bulk bins for more efficient customer loadout. In 2019, the feed plant upgraded their computer automation system and added robotic stacking.
Evolution Of Our Bags